Here's just a small sampling of initiatives we've worked on over the years.
2017 FOUR VOLUNTEERS VISIT MENGO
Hilda Shilliday, Susan Sargeant, Sylvia McMann, and Jim Sparling visited in February to volunteer in the AIDS clinic, attend Saturday Club meetings, and reconnect with old friends
During our busy month discussions with Godfrey Ssemmanda,, Mengo's new Administrator, revealed the need for tools to equip the workshop so that Mengo's technicians could properly maintain and repair buildings and equipment. In March a shipment of tools including power saws, drill press, compressor and a complete kit of wrenches, hammers etc..was prepared, packed and sent to Uganda from the Compassionate Resource Warehouse. This is the 5th. shipment including the large container of 65 beds obtained from the Jubillee Hospital in Jan. of 2016 that our friends at the Compassionate Resource Warehouse have provided for Mengo since 2004.
FOMH(C) held our AGM in April and a special motion was passed to approve our group partnering with PODA, An NGO from Victoria who have a community development project in the village of Bwera in western Uganda. In 2014 PODA built a secondary school for 500 students with the help of a team of Victoria volunteers. PODA plans to develop a community health program and FOMH will support community health clinics as an outreach of Mengo's community health program. Dr. Edith Namulema will send a team to Bwera to conduct AIDS education and HIV testing. In the future we hope to arrange for health care workers from Bwera to come to Mengo for further education and training. Our directors believe that developing community health programs is an important new direction for our efforts to support and improve health care at Mengo and in Uganda
2016 Shipping a container of hospital supplies
For many years we have partnered with the Compassionate Resource Warehouse in Victoria. In January 65 nearly new beds, 2 infant warmers, several incubators and a large amount of medical linen became available from our Victoria Hospitals. Volunteers at the warehouse carefully prepared, packed and loaded a 40ft. container that we funded and arrived at Mengo in July.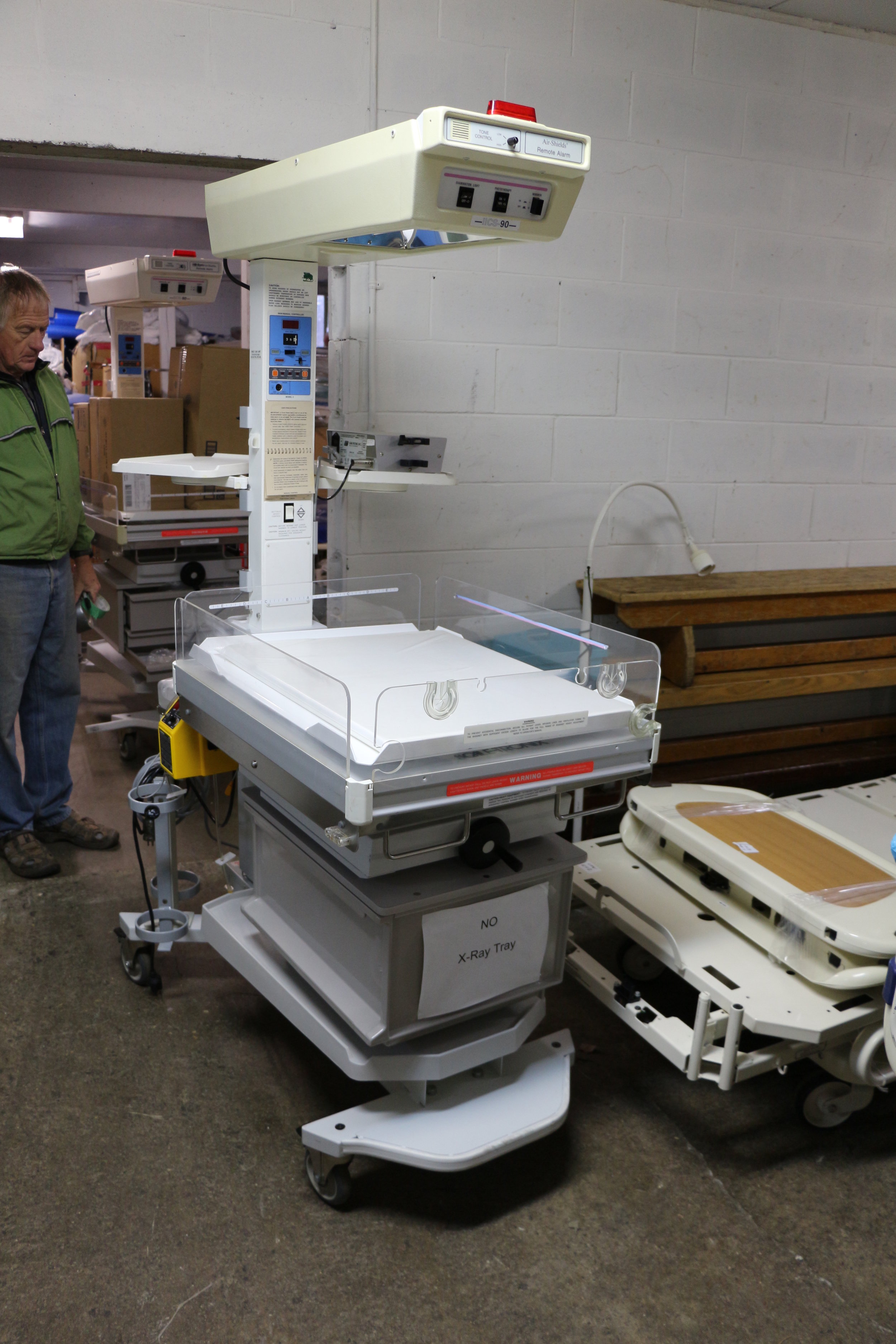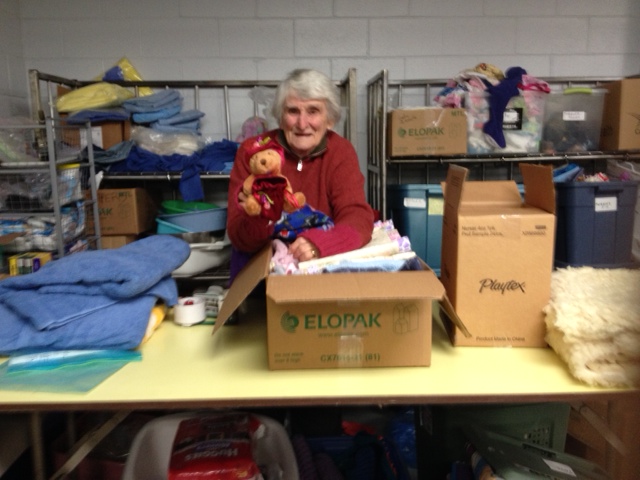 2015 Iniatives
The important news this year is that the US Aid grant that was terminated for 6 mos. due to Pres. Muzeveni's anti homosexuality legislation was reinstated and that the 30 staff who were unemployed returned to work. And so, Dr. Edith was able to resume HIV case finding and new patients have been able to receive life saving anti viral treatment. The increasing numbers of patients requires that two more floors must be added to meet the needs for more space to provide proper patient care. The conference room is now taken over with storage of drugs, our records room is bursting and staff need offices. Our group has committed $35,000 for the building addition and our sister groups in the US and UK have pledged to also help.
The SATURDAY CLUB program has been a special effort to mentor and support AIDS orphans. Two years ago we instituted a special program to provide tuition support for deserving adolescent AIDS patients. Again this year we will contribute $10,000 and 24 young patients will have opportunity for vocational training that will allow them to become self supporting. Several have already completed hair dressing and tailoring courses.
We hosted Dr. Edith Namulema in Victoria in July after she attended the International AIDS conference in Vancouver.
Another initiative that we have supported began in 2006 when we conducted a clinical trial of a nutritional supplementation containing Selenium to 300 patients attending the Mengo clinic. This research followed from the work of Dr. Harry Foster, Professor at U. of Vic. who claimed that HIV diffused widely in sub-Saharan Africa because the soils are severely deficient in selenium. Our study showed that measures of health and well being were improved and that the progression of HIV to AIDS was delayed. We have tried to provide selenium nutritional support ever since because of the improvement patients have reported. Brian Holmes who worked with Dr. Foster moved to Kampala with his family and has organized a company, Bomgi, to provide selenium combined with moringa oleifera. Moringa has been recognized by indigenous Ugandan's as the 'miracle food' and recent studies has revealed that moringa contains 25 vits. and minerals, essential amino acids and has anti-inflammatory properties. Capsules containing moringa and selenium are now available at low cost and all the AIDS clinics in Kampala are now providing this immune booster as a component of treatment for AIDS patients with immune deficiency.
Another 2015 achievement was a gift of $7000 from the Rotary Club of Saanich which provided funds to give all the Sat. Club orphans a mattress, shoes and school supplies.
2014 TB/HIV clinic
Volunteers once again returned to Mengo Hospital in early 2014 and became involved with a number of projects. Pawel and Kinga were once again involved with continuing to support the dental clinic . Dr Jim and Martha represented FOMH(C) at the formal opening of stage 1 of the new TB/HIV clinic, participated in the renovation of an old clinic room into a new facility that will be able to house a laboratory, and arranged for the installation of a reverse-osmosis machine to provide de-ionized water for the hospital. A volunteer nurse from Victoria spent time with the staff in the high dependency unit teaching skill updates with the nurses.
We are proud to say that this year FOMH(C) has donated $24,000 to support AIDS care at Mengo Hospital. $5000 has also been sent to support the Dental Clinic. We are concerned however by the recent withdrawal of funding by USAID and the impact that it will have on the care for these patients.
2013 New TB/HIV clinic
Volunteers to Mengo Hospital in January 2013 included Dr Jim, Martha, Pawel and Kinga who were there for approximately 6 weeks.
FOMH(C) has partially funded an extension of the TB/HIV clinic which has become sadly overcrowded in recent years, due to there being more than 7000 registered HIV+ patients. We were able to donate almost 25% towards the required down payment in order for the project to start. The rest of the required down payment came from other FOMH organisations, private donors and the hospital itself. Great collaboration!! As you can see below, the ground was broken while Dr Jim was in Kampala. We are now able to report on July 1st 2013, the Kampala City Council (KCC) gave approval for the construction of the clinic extension to proceed, and you can see below how the project is progressing.
Martha continued to work this year with some HIV+ adolescents. These young adults have been somewhat ostracised due to their HIV+ status. This makes it so difficult for them to develop confidence, have an education, or to find employment. FOMH(C) is helping to fund both the education and skills training for a number of adolescents. You can see below a young lady by the name of Peace wearing the suit she has made.
Pawel and Kinga spent 7 weeks at Mengo Hospital helping refurbish and organise the new Dental clinic extension as well as training the staff to do implant work. A lot of work in a short time period that was appreciated by everyone at the clinic. More photos can be seen in the Gallery.